The introduction into InWin's AIO CPU Coolers begin with the SR 24 and 36. InWin stepped into the AIO industry to put our own spin on AIO CPU coolers.
First thing you notice is the massive block! There's a reason for it's large size and that's because it houses two pumps and utilizes them for parallel cooling on the CPU copper plate. It's designed to cool more efficiently and has a hidden safety feature. So should one of the pumps fail, the other pump will continue to function to keep your system safe. Also, on the beautiful mirrored front bezel on the block will flash red and blue lighting to warn the user that there is an issue with the AIO.
Speaking of the mirrored front bezel, it also hosts an LED InWin logo to give a nice touch to the premium block.
The radiator itself places an emphasis on cooling by hosting an array of microchannel fins that dissipates heat much easier. It's also equipped with Jupiter AJF 120 ARGB high static pressure fans to help combat any thermal presence.
SR24_03.jpg
SR24_02.jpg
SR36_03.jpg
SR36_11.jpg
SR36_19.jpg
SR36_18.jpg
SR24_11.jpg
SR24_17.jpg
SR24_19.jpg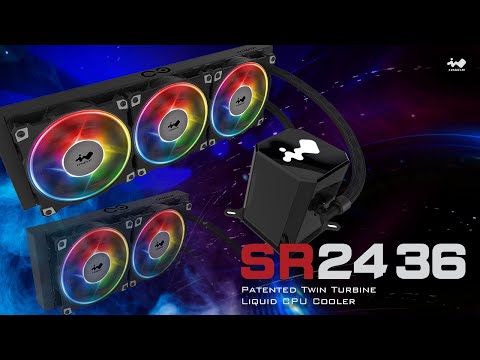 For more detailed information about the SR 24 or SR 36, please see our official website:
SR 24:
https://www.in-win.com/en/cooling/sr24/
SR 36:
https://www.in-win.com/en/cooling/sr36/
Also, if you own the SR 24 or 36 in your build, please feel free to post pictures below.